Pay online for your Yellow Butterfly Cakes & Sugarcraft Gift Voucher
Our Yellow Butterfly Cakes & Sugarcraft gift vouchers are for our courses. and sugarcraft workshops and cake and sugarcraft and cake decorating products in Ely Cambridgeshire.
Buy your loved one a course or workshop or get them started in their new hobby or business with or starter kits. So come on down a buy a gift that will be a gift that will have so much value to the one you receive it.
Just pop instore or pay online it's as simple as that. Look it does not matter if you don't know what their ability is as once you purchase it and give it to them they can come and see us and we will get them the on the right course or workshop so you lose nothing.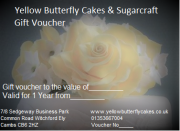 £10.00
Ely Cambridgeshire for your cake decorating and sugarcraft gift vouchers starting from just £10.00 Our gift vouchers can be purchased for a range of products and services we provide. We have many workshops and courses as well as range of cake decorating tools and sugarcraft equipment. The recipient...
Variations Available: 10,20,30,40,50,60,70,80,90,100,